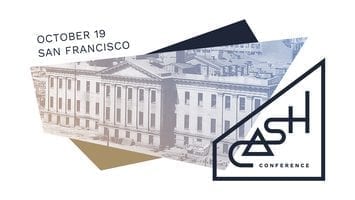 On Thursday, October 19th, activists, social justice advocates, economists, futurists, venture capitalists, writers, community organizers and politicians gathered at the Old Mint in San Francisco – a symbolically poetic building – to talk about Cash. Organized by the Economic Security Project, the goal of the conference was to "reimagine what an economy built on the well-being of everyone could look like."
Cara Rose DeFabio and Sandhya Anantharaman were the MC's for the day, introducing each segment, panel or presentation, showcasing a range of thoughts around how cash transfers can shape society. See the full schedule here.
The conference embraced a range of reasons why giving cash through a Universal Basic Income is an appealing concept. Most segments were in a panel format with experts in their field, moderated by one of their own. This allowed participants to see the differences in thinking across the movement as well as its broad appeal, regardless of what brought these thinkers into to the movement. The first panel was a discussion on automation's effect on the work force, and how UBI could provide economic security during retraining, between jobs, or to supplement part time work. Another panel, with representatives from three different venture funds, discussed how a UBI might encourage entrepreneurship, while a third  panel talked through historical and current systemic racist and sexist policies and practices, and how a combination of a UBI plus a wealth tax to help fund it could course correct extreme inequality.
A general acceptance for the benefit of cash transfers seemed to be the most basic common denominator. The audience was educated on the results of past cash transfer and basic income experiments, as well as updates on current experiments. You can view   a high level video of some of the outcomes of these experiments here.
Mayor Tubbs of Stockton talked about his plans for a UBI in his city. Elizabeth Rhodes also gave an update on the Oakland Y-Combinator project. Then Joe Huston, CFO of Give Directly spoke to the effectiveness of cash transfers and positive outcomes in their work in Kenya and Uganda. He announced that Give Directly is now involved in its first US based project, where they are giving debit cards with $1500 directly to victims of Hurricane Harvey in the Houston area. He noted the work that still must be done changing perceptions around what people will do when they are given cash unconditionally, joking that employers don't say, "I would like to give this employee their bonus, but I'm worried they might drink it away,"  yet this is somehow common thinking that needs to be changed based on research results.
Aisha Nyandoro, CEO of Springboard to Opportunity spoke about where the current Welfare system in the US fails. She illustrated the challenges that families living in poverty in Mississippi have piecing together welfare benefits from the government – housing voucher, electricity voucher, and food stamps. The system creates poverty traps and the benefits don't cover many of the real needs these families have, but cash would. Cash would also limit interaction with the system and remove the feeling of being judged, as well as  the stigmas around welfare.
Damareo Cooper, Director of the Ohio Organizing Collaborative shared his personal story also highlighting how the current welfare system and prison system fails children and young people, making a convincing case for switching to cash. Almaz Zelleke, professor of Political Science at NYU Shanghai, went further, explaining why a UBI must be paid as cash and not a negative income tax.
Throughout the day, however, there seemed to be a lack of consensus on aspects surrounding  universality and unconditionality of a cash transfer policy. The range of standpoints could be seen clearly in a panel with Hawaii State Representative Chris Lee and Alaska State Senator Bill Wielechowski, as well as Joseph Sanberg, the founder of Golden State Opportunity Foundation. Bill educated the audience on the Alaska permanent fund. On the aspect of Universality and Unconditionality he said, "Universality is critical. If the policy was needs-based it would diminish it. The fund is framed as each resident's ownership of shared resources. This is something that Alaskans share together."
On the other side of the issue, Joseph Sanberg said, "The social contract is work and you will be able to have economic security." He tied work requirements to the right to economic security and his efforts have been focused on California Earned Income Tax Credits.
Chris Lee from Hawaii seemed to be working out his state's position on the issue, noting that for their Earned Income Tax Credits they have expanded the definition of work, looking at where people are spending their hours – for example, caregiving. He did note that his task force is looking at a universal benefit across all economic classes.
Aisha Nyandoro cited  the work she does as evidence that work requirements are difficult and policy makers are out of touch on the issue.  She invited any policy makers that wanted to get in touch to call her. Anne Price, President of Insight Center for Community Economic Development,  explained how racism and sexism shaped current welfare policy around judging who is deserving and who is undeserving. She noted that it is degrading to be on the receiving end of morality, and shared her vision for dignity for all: universal benefits – working or not.
How to pay for it was touched on by some, with ideas ranging from a wealth tax to combat inequality, to a shared patrimony dividends, like Alaska, or some combination of these revenues.  
Other highlights of the day included a session by Jane McGonigal from the Institute for the future, and A Frank Conversation about Money with Chris Hughes, co-founder of Facebook and Co-Chair of the hosting Economic Security Project. Jane coached the audience on how to create empathy for our future selves and envision a future with Universal Basic Income.  Anna Sale from "Death, Sex, and Money" interviewed Chris Hughes about his thoughts and feelings around his own fortune and why he supports Universal Basic Income.
The organizing team is clearly very competent and professional, as the entire conference ran very smoothly from check in, AV, lunch, and seating. All details were thought out  and executed well. Participants had many opportunities to make connections and discuss the themes.
All in all, this was a very important gathering for the movement.