Basic Income Videos
Sign up for the NewsFlash
Basic Income News' digest right to your mailbox
BIEN Congress 2019
The 2019 BIEN Congress will be held in Hyderabad in India from the 22nd to the 25th August.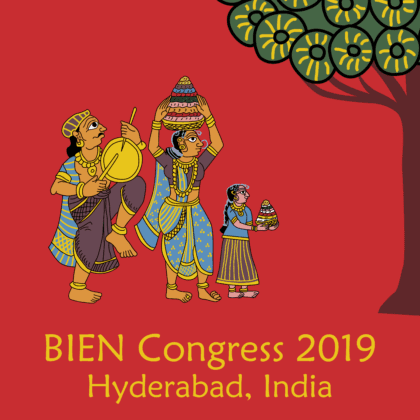 For the conference website, details of the call for papers, and details of registration, click here.
BIEN's purpose
The mission of the Basic Income Earth Network (BIEN) is to offer education to the wider public about alternative arguments about, proposals for, and problems concerning, basic income as idea, institution, and public policy practice. To this end, BIEN organises public conferences around the world on an annual basis in which empirical research and new ideas are disseminated and discussed.
BIEN promotes and serves as a repository of published research, including congress papers, an academic blog featuring balanced debate for and against the basic income proposal in different contexts and forms, and by means of an independent academic journal linked with BIEN – Basic Income Studies.
BIEN does not subscribe to any particular version of basic income, and fosters evidenced-based research, plural debate, and critical engagement about basic income and related ideas and public policy developments. Individuals connected with BIEN – including affiliated organisations - may express particular opinions about basic income, but they are not opinions of BIEN.
BIEN's explicit mission is to remain neutral among competing arguments for and against basic income and the relation of basic income with other ideas and policies.
About BIEN
The Basic Income European Network (BIEN) was founded in 1986 to serve as a link between individuals and groups committed to or interested in basic income, and to foster informed discussion on the topic throughout Europe. It extended its scope from Europe to the "Earth" in 2004.
What is Basic Income?
A basic income is a periodic cash payment unconditionally delivered to all on an individual basis, without means test or work requirement. Read More »
Our National & Regional Affiliates