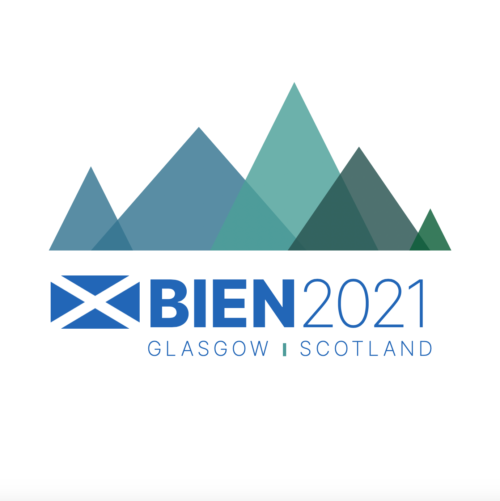 The 20th Basic Income Earth Network Congress will be hosted online from Wednesday 18 – Saturday 21 August 2021. The theme for the Congress is Idea to Reality. We want to consider how we take Basic Income from a big idea for big change to a reality. All are welcome to join us in discussion at this exciting time for the Basic Income Movement.
The conference will be hosted on Whova, a specialist online conference platform. You'll be able to view the programme and pick which sessions to attend, securely view all the presentations on the platform, as well as take part in discussions and message boards and re-watch anything you might have missed for up to 6 months afterwards.
Basic Income Network Scotland, in partnership with the University of Strathclyde, are excited to be putting together a programme packed with perspectives on Basic Income in Scotland, the wider UK and around the world. We will present insights into the status of Basic Income in Scotland, including: the feasibility study into a Scottish Basic Income experiment, political attitudes and work on Basic Income, civil society perspectives, and creative and cultural demonstrations that represent the Scottish debate.
More about the Programme
The programme will be a dynamic mix of academic paper presentations, workshops, and special events showcasing the work of artists and Basic Income activists across the world. There will be strands focussing on Scotland; Canada; funding Basic Income; Basic Income and Health; Basic Income and the environment; the Philosophy of UBI, and more. Across four days we're looking forward to welcoming nearly 200 speakers to share their work.
Our highlights include:
Annie Miller, co-founder of Basic Income Network Scotland, will be presenting at the Congress. Economist, academic, lecturer, Basic Income advocate and author, Annie has written several important books on Basic Income: A Basic Income Handbook (2017), A Basic Income Pocketbook (2020) and Essentials of Basic Income (2020).
You'll also get the chance to hear from Guy Standing, another exciting author who's made important contributions to literature on Basic Income, including his book Plunder of the Commons: A Manifesto for Sharing Public Wealth – which Brian Eno called 'one of the most important books I've read in years'!
Representatives from Scotland's Basic Income feasibility study;
Hearing from Scottish Universities Insight Institute project about Basic Income and Mental Health, Peace of Mind;
Representation from the United Nations Development Programme
---
Follow Citizen's Basic Income Network Scotland on twitter and facebook and on its blog for more information about the programme.
---
Support the Congress
Basic Income Network Scotland welcome donations to support their volunteer-led work on the Congress.
This will be the first time the Congress has taken place online and we're happy that this means more people than ever will be able to attend. However there are still costs we need to cover – running an online conference has unique demands and requires just as much in terms of resources as an in-person conference! We'll be providing moderation, technical support and any other required assistance to speakers and attendees throughout. The costs we need to cover include volunteers' expenses and fees for software and web hosting.
Online conferences of a similar scale usually cost between £50 and £200 to attend. With the programme we've got lined up – four days of paper sessions, workshops and special events, hearing from leading thinkers on UBI, we think our suggested contributions are great value for money!
We're asking all attendees to donate some of what you would have spent on attendance, travel and accommodation to support Basic Income Network Scotland, a volunteer-led organisation educating and advocating for Basic Income in Scotland and your local hosts for this edition of the BIEN Congress.
We're asking for the following contributions, depending on your situation:
Individual/self-funded – £5-£10
Professional, attending one day only – £30
Professional, attending whole Congress – £50
Attending on behalf of an organisation who are supporting you to attend – £100
But of course, if you want to donate more, you're welcome to!
---
Volunteer at the Congress
We're looking for volunteers to support and shape the delivery of this year's BIEN Congress. This opportunity provides you with an instrumental role in hosting Basic Income experts and a conference of people from around the world determined to take Basic Income from idea to reality.
For obvious reasons the Congress this year will be online, but we're determined to use this as an opportunity to increase the accessibility and diversity of attendees, infusing a traditional international academic conference with fresh ideas. The virtual platform will be used to create a dynamic and interactive community reflective of the Basic Income movement in Scotland.
---
A history of Basic Income
Just before the congress begins a new comprehensive history of Basic Income will be published. Further details can be found here. In connection the congress, the publisher is giving a 50% discount on the hardback price until the end of August. Details can be found here.