Events: Nature 2.0 – The Future is Abundant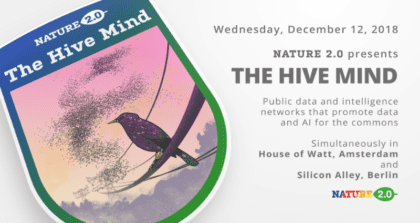 Nature 2.0 will hold a series of events in Berlin and Amsterdam, exploring blockchain technology in preparation for their participation as one of the tracks at the biggest blockchain hackaton in the world: the DutchChain Hackaton 2019 in Groningen.
What is Nature 2.0?
Nature 2.0 is an open community who wants to explore the use of cutting-edge technologies in order to create a better society. Taking advantage and combining Artificial Intelligence (AI), blockchain technology and autonomous assets, "Nature 2.0 aims for an ownerless layer of natural resources and intelligent agents that promote sustainable public utilities in a world of abundance".
In an article on Medium, "Nature 2.0 The Cradle of Civilization Gets an Update", Trent McConaghy illustrates their mission, inspired by the natural world, were flora and fauna coexist in ecosystems exhibiting features of resilience and anti-fragility, and are based on commons.
Technology allows to replicate the symbiotic relationships presents in nature, and will help design a post-scarcity society, one functioning as a positive-sum game rather than a zero-sum one.
Through the use of AI, Decentralized Autonomous Organizations (DAOs), and autonomous assets, it becomes possible to design Public Utility Networks (PUN) that are self-owned and that self-manage.
Think about self-driving cars: once they become a reality, there would be little use for privates in owning them. It would rather be better to make them autonomous assets, managed by an artificial intelligence, and allow them to receive payments via digital currency.
Nature 2.0 and Universal Basic Income
Cars would then provide an Uber-like service, but there would no drivers to pay, no management, no corporation. It would be a swarm of cars, self-regulating, with no concept of identity or scarcity, and autonomously using part of the payment they receive in order to maintain (repair, upgrade) themselves. And the remaining will be used to finance UBI.
And cars were just one example, the same could work for trucks, electric grids, wind farms, roads, etc. Then the UBI extracted from those redesigned PUNs would be distributed through blockchain, the only requirement proving to be human (an example of blockchain based UBI is that of Manna).
"The abundance from machines gets transferred to humans"
More information at:
Nature 2.0 website
Trent McConaghy, "Nature 2.0 The Cradle of Civilization Gets an Update", Medium, June 6th, 2018