The 2018 NABIG (North American Basic Income Guarantee) Congress happened in Hamilton, Ontario, from May 24th to May 27th at McMaster University. There were around 120 people presenting and attendance between 270-280 people. The conference was notably diverse, with attendees from across the income spectrum,  from people who have prospered in business, to people living in poverty. There were representatives from legislatures, civil services, business, academia and faith organizations, unions, agriculture, community service groups, advocacy groups, and First Nations communities. There were participants with long and deep knowledge about Basic Income, as well as people who were new to the concept. There was also a large number of young people, attending and presenting. There were participants from Australia, Brazil, Canada, Chile, Germany, Mexico, Portugal, Russia, the USA, and the UK, among others.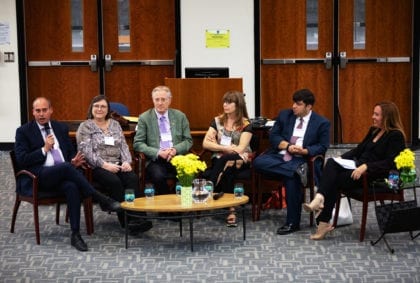 Guy Caron, Evelyn Forget, Art Eggleton, Sheila Regehr, Ian Schlakman and Laura Babcock.
The conference opened with welcome remarks from Hamilton Mayor Fred Eisenberger, followed by a panel that included Guy Caron, a federal Member of Parliament (MP) from Québec with the New Democratic Party; Art Eggleton, a Canadian Senator and former MP, and former long-serving mayor of the City of Toronto; Evelyn Forget, Manitoba health economist that uncovered the effects of Mincome on health and wellbeing; Sheila Regehr, chairperson of the Basic Income Canada Network and Ian Schlakman, Basic Income Action activist from the National Welfare Rights and Poor People's Campaign. The moderator for that section was Laura Babcock, President of POWERGROUP Communications and a national current affairs commentator. Guy Caron spoke about his Basic Income proposal, a way to combine existing benefits such as the Canadian child benefit and tax credits into one policy that guarantees that no one would fall under the poverty line. Senator Eggleton also said he would be for an incrementalist solution to rolling out Basic Income in Canada. At the end of the panel, each speaker was asked to say one inspirational phrase that summed up their views and MP Guy Caron said: "Putting a man on the moon was a huge achievement. If we could end poverty in Canada, we would be the first country in the world to do so!"
The conference also had the participation of the group Living Proof, a select group of speakers that are participants in the Hamilton Basic Income Pilot. The Basic Income recipients stood up, one by one, and told their stories. Each of the participants spoke of how they went from having a comfortable middle-class life to living in poverty and about the challenges they faced on a daily basis. Jodi, one of the Basic Income recipients, said that she had a normal middle-class life before a divorce left her and her children in a dire situation, especially since one of her children has Brittle Bone disease. She talked about a night when she had a child with a broken leg and had to worry about taking her to the hospital because she had no money to pay for parking. Others spoke about mental health and disability challenges and referred to several difficulties with the current social security system whose job is more felt as policing rather than helping them find exit strategies for their situation. Interestingly, all recipients said they started volunteering in their communities since they have been receiving the Basic Income and this has inspired them to try to change their situation of poverty and of those around them.
The event was entitled, Basic Income: Bold Ideas, Practical Solutions, and the main plenary talks were on two themes, Convergence and Reality. The Convergence topic intended to presenting Basic Income from different perspectives, from social justice to health, human rights, faith, technology etc. The Reality theme, which goes beyond the reason why we need a Basic Income, included implementation issues on how a Basic Income should operate, e.g. how to fund it and how to gain public support.
The complete program can be downloaded here and the paper and presentations will be available at the Basic Income Canada Network website after June 17th.
More information at:
Nicole Smith, "Canada Could be the First Country to Eliminate Poverty", Raise the Hammer, May 29th 2018