Towards a Basic Income: A Targeted Universal Framework for Shared Prosperity and Enduring Progress
Towards a Basic Income
A Targeted Universal Framework for Shared Prosperity and Enduring Progress
By Mark Gomez
May 30, 2017
There is more than enough in the American economy, not merely to end poverty, but for everyone to prosper. And in the next 40 years, the economy will double again. Now is the time to construct a framework of bold policies to tackle extreme inequality and finally end racial economic exclusion.
Unfortunately up to quite recently, progress-minded activists have been proposing a familiar set of policies from a bygone era that represent little more than baby steps forward. These policies neither excite voters to go to the polls in droves, nor embolden candidates to risk their office to ensure the policies become law.
In this essay, we propose a strategic reform framework that adopts familiar set of policies for a new era of possibilities, with an eye towards how they can each uniquely contribute to economic prosperity and stability for all. In so doing, we believe we can inspire a new vibrant brand of politics and rekindle a belief in progress.
Excessive Power Creates Extreme Inequality
A few corporations and people enjoy remarkable prosperity. The rest of us are stuck. Without enough in our pockets to drive the economy forward, our prosperity is not just inequitably shared, it is fleeting.
Across product chains, prosperous firms know how to ensure their contractors produce high quality products. And prosperous firms have generated ample jobs across their regions. However, these firms have yet to ensure that the workers they rely on also prosper.
Extreme inequality is born of excessive power wielded by a few firms and people. This power is built on stabilizing advantages inherent in our economy (e.g. natural monopolies, industry clusters) or granted through policies (e.g. patents, occupational licenses).
The stabilizing advantages (e.g. unions, free college, cheap homes) that once built the white middle class have been severely weakened. Of course these advantages also were often designed to exclude people deemed less worthy–women, African Americans, immigrants and others.
The dominant players' extreme power slows economic progress and corrupts our democracy. We need to create effective countervailing power mechanisms and supporting institutions. And we need to recreate stabilizing advantages not just for the white middle-class, but also for African-Americans, immigrants and others who have yet to fully prosper.
Driving the Economy Forward from the Back
Our framework puts money back into people's pockets enabling them to drive enduring prosperity. Those at the back of the income and wealth distribution, those who heretofore have been held back will now lead the economy forward benefiting all of us.
Income and wealth created socially needs to be distributed socially rather than by the few. To revive the economy and protect our democracy, we must strategically break up perilous concentrations of income and wealth. This tames dominant economic players, rewards the work of the rest, and ends racial economic exclusion.
This framework is built on three pillars: a decent stable income, a sturdy foundation of assets, and a share in our economy's prosperity. Here is an initial take at what this could practically look like in dollars and cents.
1. A Decent Living EITC with the maximum credit set so that a single earner full time minimum wage worker's household earned income reaches 250% of federal poverty. Childless workers will receive proportionate credits. The credit will be distributed monthly. To break up perilous concentrations of income, the program will be paid for by a tax on the top 20% of earners.  
2. A Social Inheritance Trust of $60,000 made available at 21 years of age. The initial annual contribution to the trust will be $2,857 per child. To break up perilous concentrations of wealth, the program will be paid for by a new tax on all forms of property. To ensure benefits for those now under 21, a one-time wealth tax will be imposed.
3. Prosperity Shares with monthly dividends to everyone over 18 years of age. The initial annual dividend would be $6,000 per household. To break up the perilous concentration of corporate income, the program will be paid for by a tax on the most prosperous of firms.  
A Targeted Universal Framework
Our universal goal is to ensure everyone prospers. Each policy is targeted to address the structure of industries and of households. Our strategy is built upon how business firms are connected through value chains and regional economies. And our strategy recognizes how hourly wages, annual income, and assets each contribute to households getting by.  
The "Decent Living EITC and Prosperity Shares" together reflect our ideal of the good life. We believe hard work should be rewarded and we believe in financial independence. The "Decent Living EITC" ensures dominant firms contribute to the prosperity of workers at less advantaged firms. And the "Prosperity Shares" ensure that we all, not just the upper middle class with stocks, enjoy our nation's prosperity.
Over time, "Prosperity Shares" may be increased faster than the "Decent Living EITC", eventually moving towards a more traditional UBI. The framework gives us the flexibility to adjust the distribution of income if, indeed, robots reduce the number of hours humans need to work.
The "Social Inheritance" breaks up racial economic barriers driving the political transformation needed to pass these policies. Those groups who heretofore have been held back from sharing in our prosperity are in many cases the most active politically in critical regions of the country.
This policy framework is predicated on reforming our antiquated national, state and city minimum wages laws. There is a legitimate fear that, with a decent living, EITC firms will in time not grant raises to their lesser paid workers. To ensure firms do not cheat in this manner, we need robust living wage standards with premiums for more prosperous regions.
None of this framework is possible without immigration reform. The dominant economic players, the people and firms, in the most prosperous regions rely on the hard work of undocumented immigrants. Their work is underpaid precisely because these workers and their firms lack power, in no small part, because they work in the shadows of our political economy.
For each policy we did not ask "how are we going to pay for this?" Instead we asked this: "At whose expense was the extreme income or wealth created?" Too many analysts critique extreme inequality only to then put forward policies that leave ill gotten gains intact. At the very least, moving forward, we need to discontinue the radical redistribution of income and wealth of the last two generations.
Over time, the income and asset standards need to increase with the economy. If they are indexed merely to the cost of living, within 40 years, we will the recreate extreme inequality we have worked so hard to undo. The income standard should be indexed to the U.S. GDP per capita. The asset standard is indexed to U.S. wealth per capita.
Shared Prosperity and Enduring Progress
Over the next generation, if we follow the historical trend, we will add to our economy $7 trillion in income and $27 trillion in wealth. Because each of us, and those who came before us, have contributed to that prosperity, we should share in it. In short order, we can ensure everyone enjoys a 'middle-class' standard of living. And, in the years to come, we should be able to ensure people do still better.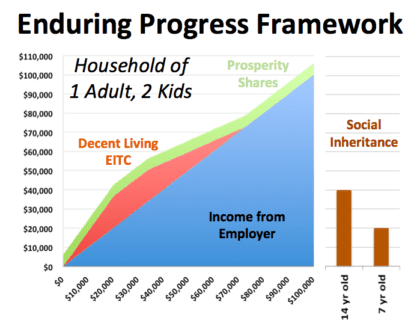 ---
Mark Gomez, a long time community activist and labor union strategist, now leads the Leap Forward Project at the Haas Institute for a Fair and Inclusive Society.