CANADA (LINDSAY, ONTARIO): Delegates pass 'Lindsay Declaration' on basic income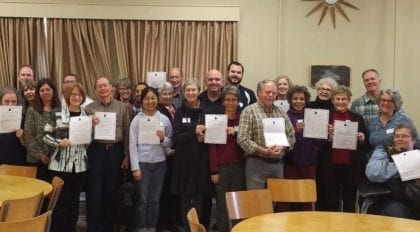 Ontario Basic Income Network delegates. Credit to: Lindsay Advocate.
On November 4th 2017, the Ontario Basic Income Network (OBIN) held its annual meeting in Lindsay, Ontario, Canada. Lindsay is one of the sites of the Ontario basic income pilot project, with approximately 2,000 residents registered in the experiment. Delegates at the November 4th meeting unanimously passed "The Lindsay Declaration for a Progressive Basic Income."
The Lindsay Declaration draws from human rights outlined in the United Nations Universal Declaration of Human Rights and the Canadian Charter of Rights and Freedoms. It also highlights what it considers the benefits of basic income and the momentum built by the Ontario government's three-year basic income pilot (ongoing).
The Declaration proposes nine principles to guide basic income policy. These state that basic income must be promoted as justice rather than charity, and as abundance rather than austerity. The principles further assert that basic income must be reliable, based on cost of living and protected from creditors. Finally, the Lindsay Declaration supports basic income that does not preclude a "comprehensive social security system," and that aligns with progressive "personal and corporate taxation."
After the meeting, delegates voiced their intention to use the Lindsay Declaration as a tool for basic income advocacy across Canada. The Declaration has received attention from regional news and social media.
More information at:
Basic Income Canada Network endorsements
"Ontario delegates pass 'Lindsay Declaration' on basic income," Kawartha Lakes This Week, November 7th 2017
Roderick Benns, "'Lindsay Declaration' on progressive basic income passed by delegates," The Lindsay Advocate, November 7th 2017
"Town of Lindsay chosen to host basic income pilot program," Global News, October 12, 2017