Russia: A short-term basic income experiment starts in Russia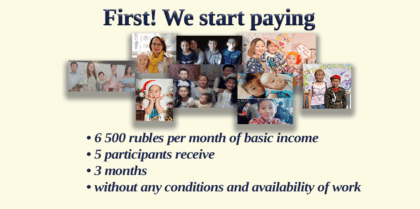 The Social movement "Basic Income Russia Tomorrow", together with the charity foundation "Coordinates of Good", were awarded the Wow Successful Awards 2019, in the Social Innovation chapter, on the 13th of March. This award means the movement will be able to make unconditional cash transfers for five recipients, for three months. The value transferred will be small – 6500 rubles/month (around 100 $/month) – and for a very short period of time, but such an amount can be significant for many Russians. The money involved in the experiment is the result of private donations.
This short-term unconditional cash transfer experiment starts now, in April 2019, and will be monitored by Vyacheslav Nikolaevich Bobkov, from the Institute of Social and Economic Studies of Population at the Russian Academy of Sciences.